Locked Out Of Your Vehicle?
How many times have you left your keys accidentally on the seat or in your cars boot?
With the newer cars on the market, many now come with self locking features which means vehicle security is great! However there is a slight downfall when you've actually gotten out of the car yourself, shut the door, realised you've left your keys on the seat or you've just emptied the shopping out of your boot and before you know it, your car has automatically locked and you can no longer open the door or boot and retrieve those keys which are just feet away. Don't be embarrassed because it happens to a lot of people on a daily basis and with keys being so small, it really isn't hard to not pick them up sometimes.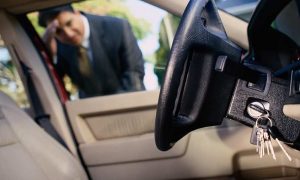 If you find yourself in this situation, don't panic, we're only a phone call away!
Don't worry about your car lock being damaged because we provide a Non-Destructive Entry solution in which its exactly the same process as putting in a key and turning the lock.
From experience, there are lots of companies and locksmiths out there charging a lot of money to gain access to your vehicle, don't be tricked in to paying over £150 just for gaining entry to the vehicle. We see ourselves as a very affordable service and we want to help you get back to the more important things in your life without being deeply out of pocket. Call us immediately for a quote! (prices may vary depending on location to travel)